Feel free to use this banner on your site to link to this site.



Welcome to my web page! This web page is strictly about my "Mariah room." I don't intend to make this page fancy at all. I decided that I'd let everybody else do the news pages. When you see these pictures, you may be interested in some of the pictures. I've sent a lot of pictures to websites on the web in around 2000 and if you search the net in other places, you will find a good share of them.
I started out the Mariah room with just about 3 pictures back in the end of 1995. Since then, I have been collecting every picture I can find. I mostly hang up professional poses since there isn't much room for anything else. Some things I have a color picture of but it is in my scrapbook so I copied it and put that on the wall.
I am in Mariah's official fan club and have been since early 1995. I started taking pictures of my room as my collection grew. I've seen different rooms in the newsletter and sent a picture of my room to be in the newsletter and it finally got published. I want other Mariah fans to be able to see my room and I figured that this is a good way to do it. Just for the record, I am not CRAZY! LOL! I just like to collect pictures and I wouldn't be a Mariah stalker or anything like that, I'd just act like a normal human being if I were around her. I'm just a fan who really likes to collect her pictures! I hope you like my room and enjoy your visit!
---

Was the room in the video for Mariah's song Obsessed based on The Mariah Room? The ceiling is done in the video, many of the pics are in black and white, and even the Christmas lights are there. Only Mariah knows for sure, but you can be the judge. Click here to see some captures from the video! De ja vu?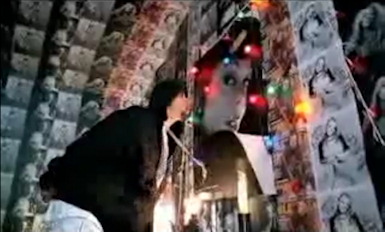 "Why you so obsessed with me?"
Because you've got the voice, that remarkable high range, and a good personality!


---



Here is what my room looked like when I first started collecting and thought that I had a lot of stuff! This was in 1996. Just click on the link below to view the pictures.
Thumbnails





Here are some pictures I took in March of 1999.
Thumbnails





Here are some pictures of my room that I took on December 25, 1999. I didn't take pictures of the parts of my room that haven't changed since March such as parts of the ceiling.
Thumbnails





These pictures were taken on July 29, 2000.
Thumbnails





These pictures were taken on July 2, 2001.
Thumbnails



Click here for the newest and most different pictures of my room taken March 1, 2002!!
*Small picture update - August 27, 2002*


As of now, I have approximately 5,580 Mariah pictures.





Magazine cover collection | Article collection | Regina's room



Approx. 15,850 visitors between late '99 - Feb. 2002

Counter no longer in service.